Daily GK Update: 9th June 2020
Indian Air Force develops 'Airborne Rescue Pod for Isolated Transportation'
The Indian Air Force has designed, developed and inducted an Airborne Rescue Pod for Isolated Transportation (ARPIT) that will be utilised for the evacuation of critical patients with infectious diseases including COVID-19 from high altitude areas, isolated and remote places.
The requirement of an air evacuation system with a facility to prevent spread of infectious aerosol from a coronavirus patient during air travel was felt by IAF when COVID-19 was declared as a pandemic.
The first prototype was developed at 3 BRD AF and has undergone various modifications.
Only indigenous materials have been used to fabricate this pod, in view of the "Atmanirbhar Bharat" call by Prime Minister Modi.
Source: Zee News
Gujarat, TN, Maharashtra top in FSSAI food safety index for 2019-20
Gujarat, Tamil Nadu and Maharashtra have topped an index that ranked states ensuring food safety in 2019-20, Food Safety and Standards Authority of India (FSSAI) said on Sunday. The index ranks states on five parameters of food safety: human resources and institutional data, compliance, food testing facility, training and capacity building besides consumer empowerment.
Gujarat, Tamil Nadu and Maharashtra have topped in the list of larger states on the index.
Among the smaller states, Goa came first followed by Manipur and Meghalaya. Among Union Territories, Chandigarh, Delhi and Andaman Islands secured top ranks, FSSAI said in a statement.
Source: The Economic Times
Government rolls out facility of filing of NIL GST Return through SMS
In a significant move towards  taxpayer facilitation, the Government has today onwards allowed filing of NIL GST monthly return in FORM GSTR-3B through SMS. This would substantially improve ease of GST compliance for over 22 lakh registered taxpayers who had to otherwise log into their account on the common portal and then file their returns every month. Now, these taxpayers with NIL liability need not log on to the GST Portal and may file their NIL returns through a SMS.
For this purpose, the functionality of filing Nil FORM GSTR-3B through SMS has been made available on the GSTN portal with immediate effect. The status of the returns so filed can be tracked on the GST Portal by logging in to GSTIN account and navigating to Services>Returns>Track Return Status.
Source: Ministry of Finance
Gairsain declared summer capital of Uttarakhand
Gairsain in Chamoli district was declared as the summer capital of Uttarakhand on Monday.
A notification in this regard was issued by Chief Secretary Utpal Kumar Singh after Governor Baby Rani Maurya gaver her assent to the move.
Expressing happiness on Gairsain being formally declared the summer capital of Uttarakhand, Pradesh BJP vice president Devendra Bhasin said by doing so the party has fulfilled a major promise made in its poll manifesto.
"The governor has granted her assent to declaring Gairsain the summer capital of Uttarakhand. It fulfills Chief Minister Trivendra Singh Rawat's announcement about Gairsain in the Vidhan Sabha and a major promise made by the party in its manifesto for the 2017 Assembly polls," Mr. Bhasin said.
Mr. Rawat had made the announcement about Gairsain being made the summer capital of Uttarakhand during the budget session of the state assembly there on March 4.
Source: The Hindu
Indian Economy To Contract 3.2% in FY21: World Bank
According to World Bank forecasts, growth is estimated to have slowed to 4.2% in FY 2019/20, which ended in March 2020 in India. Output is projected to contract by 3.2% in FY 2020/21, when the impact of the pandemic will largely hit. Stringent measures to control the spread of the virus will heavily curtail activity, despite some support from fiscal and monetary stimulus. Spillovers from weaker global growth and balance sheet stress in the financial sector will also weigh on activity.
Although the South Asia region has witnessed a smaller number of COVID-19 cases than many other regions, tourism activity has faded, and domestic pandemic mitigation measures are weighing heavily on short-term economic activity. Deteriorating economic conditions in advanced economies and major emerging market economies are impacting export-related industries. In addition, the incidence of COVID-19 cases is still rising rapidly regionally.
Source: Business Standard
NIPER Guwahati and Hindustan Antibiotics Ltd signs MoU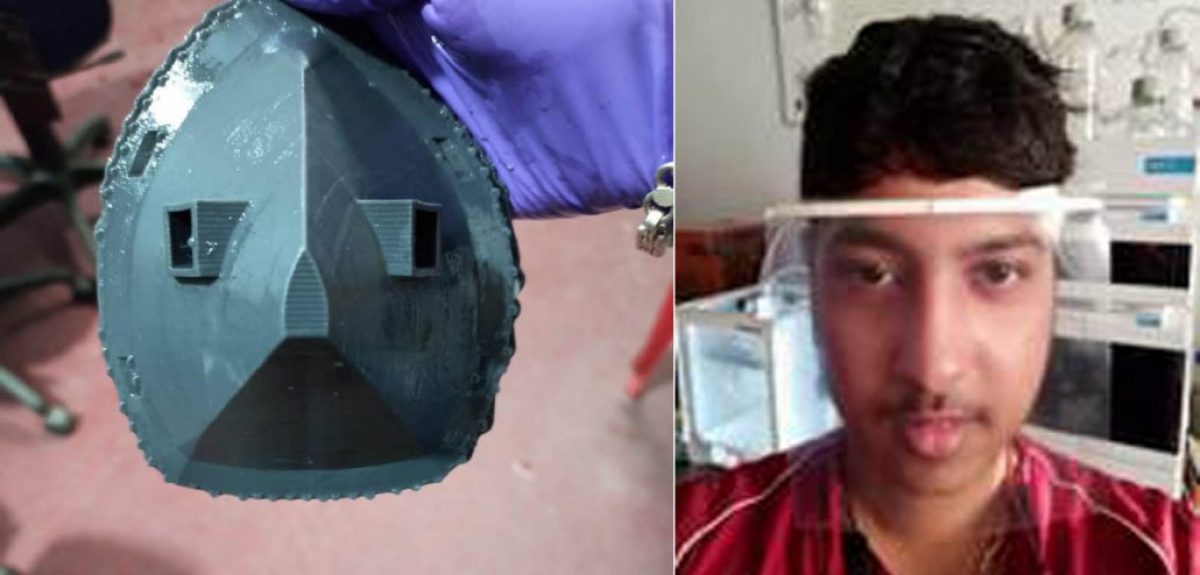 National Institute of Pharmaceuticals Education and Research (NIPER)-Guwahati, a premier Institute of National Importance under the Department of Pharmaceuticals, Union Ministry of Chemicals and Fertilizers, Govt. of India is committed to providing a useful contribution cum solution in terms of developing Personal Protective Equipment's (PPEs) to avoid the fatal spread of COVID-19 transmission .
Director Dr U S N. Murty informed that he signed MoU with the Hindustan Antibiotic Limited (HAL, a PSU under Dept. of Pharmaceuticals, Govt. of India), Pimpri, Pune for large scale industrial-grade manufacturing and commercialization of their 3D printed antimicrobial face-shields.
NIPER-Guwahati has also filed both an Indian design patent and provisional patent at Indian Patent Office, New Delhi on their 3D printed antimicrobial face-shields.
Source: Ministry of Chemicals and Fertilizers
India, Denmark sign MoU for developing cooperation in power sector
India and Denmark have signed an MoU for developing cooperation in the power sector.
The MoU signed between the Ministry of Power and the Ministry for Energy, Utilities and Climate, Government of Denmark, is to develop a strong, deep and long-term co-operation between two countries in the power sector on the basis of equality, reciprocity and mutual benefit.
It provides for collaboration in areas like offshore wind, long term energy planning, forecasting, flexibility in the grid, consolidation of grid codes to integrate and operate efficiently variable generation options, flexibility in the power purchase agreements and variability in renewable energy production.
Indian electricity market will benefit from this cooperation with Denmark. Under the MoU, a Joint Working Group will also be established.  It will be co-chaired by Joint Secretary level officials.
Maharashtra boy makes world's first 'Internet-controlled' robot
A 23-year old Thane engineer has made a first-of-its kind 'Internet-controlled' robot specifically to address the needs of hospitals treating COVID-19 patients. Designed and created by Pratik Tirodkar, founder of a start-up PNT Solutions, Dombivali, recently, the first Coro-bot is currently deployed successfully at the Holy Cross Hospital in Kalyan.
"This aCoro-bot' eliminates the need of physical presence or contact of nurses or ward boys with the patient. It can deliver food, water, medicines and interact with the patients through a camera. Through a speaker, it can also advise patients on various precautions like sanitizing their hands before picking up anything from the robotic tray," Tirodkar said.
Most importantly, the company has created a special App to operate Coro-bot from any location in the world using Internet of Things (IoT) technology – a first anywhere in the world that this technique is being deployed in the medical field, he said.
Source: The Tribune
Union Minister Dr. Jitendra Singh inaugurates CAT Bench at Jammu
Speaking after the inauguration  Dr Jitendra Singh said that the setting up of CAT Bench of Jammu to deal exclusively with service matters of government employees would go a long way in not only reducing the burden of various Courts and thereby giving them more time to deal with other cases expeditiously but would also provide to the persons covered by the Administrative Tribunals speedy relief in respect of their grievances and service matters.
He said that Modi Government is committed to Transparency and "Justice for All" and the people friendly reforms taken in the last six years have benefitted the entire country including people of Jammu and Kashmir and Ladakh.
He said that more than 800 Central laws, which were not applicable to J&K have been made applicable since the abolition of Article 370 and 35A on 5th August 2019 for the benefit of people of Jammu & Kashmir and Ladakh and now they enjoy same rights as people from the rest of India.
Source: DD News
India must redouble sustainability efforts: Environment performance index
India secured 168 rank in the 12th edition of the biennial Environment Performance Index (EPI Index 2020) — that measured the environmental performance of 180 countries — and was released by the Yale University on June 4, 2020. India's rank was 177 (with a score of 30.57 out of 100) in 2018.
The country scored 27.6 out of 100 in the 2020 index.
The global index considered 32 indicators of environmental performance, giving a snapshot of the 10-year trends in environmental performance at the national and global levels.
Source: Down to Earth
Andhra Pradesh CM Jagan Mohan Reddy launches state environment body's waste exchange website
Chief Minister YS Jagan Mohan Reddy launched the online waste exchange website of Andhra Pradesh Environment Management Corporation (APEMC) on Friday on the occasion of World Environment Day.
He also released the poster of APEMC e-platform highlighting its salient features, which is India's first. It is a proactive initiative of the State government towards environment protection, covering 100 per cent safe disposal of toxic waste, proper tracking, scrutiny and audit of waste.
It will actively promote the six 'R's – Reduce, Reuse, Recycle, Refurbish, Redesign and Remanufacture. AP has a large number of industries falling under red and orange categories, which generate significant quantities of liquid waste, hazardous and non-hazardous solid waste and air pollutants. The industries also generate e-waste and other forms of waste, which needs to be disposed of scientifically.
Source: The New Indian Express
Javed Akhtar becomes first Indian to receive Richard Dawkins Award
Poet, lyricist and writer Javed Akhtar has become the first Indian to receive the prestigious Richard Dawkins Award for 2020 for critical thinking, holding religious dogma upto scrutiny, advancing human progress and humanist values.
Previous recipients include American TV host, comedian and political commentator Bill Maher and English-American intellectual, philosopher, social critic and writer Christopher Hitchens.
Source: The Hindu