Daily GK Update: 8th June 2020
ISRO signs MoU with ARIES for cooperation in Space Situational Awareness, Astrophysics
The Indian Space Research Organization (ISRO) has entered into an agreement with Aryabhatta Research Institute of Observational Sciences (ARIES) for cooperation in the field of Space Situational Awareness (SSA) and Astrophysics.
The Memorandum of Understanding was signed by R Umamaheswaran, Scientific Secretary of ISRO and Dipankar Banerjee, Director of ARIES, Nainital through videoconference mode at ISRO and ARIES Headquarters' on June 4, the space agency said in a release.
Space objects orbital tracking, analysis and space weather studies are important aspects in Space Situational Awareness and Management to safeguard Indian space assets from critical conjunction threats from space debris, ISRO said.
Future endeavors in space exploration depend on R&D in Astrophysics, solar sciences and space environment, it said, adding that self-reliance in these areas is key to the progress of Indian space arena.
Source: The Economic Times
SBI launches separate vertical for financial inclusion, micro credit
India's largest lender State Bank of India (SBI) on Tuesday said it has created a separate vertical to focus on financial inclusion and micro markets (FI&MM).
The bank will offer loans predominantly for agriculture and allied activities and micro and small enterprises under the new vertical.

"In a major restructuring exercise, SBI has created a separate FI&MM vertical within the bank with an exclusive focus on financial inclusion and micro markets, especially in rural and semi-urban areas," the bank said in a statement.

Under this plan, about 8,000 branches in rural and semi-urban areas have been identified to provide specialised services to the micro segment including credit for small businesses and farmers.
Source: Live Mind
Madurai girl declared 'Goodwill Ambassador for the Poor'
For M Nethra, money amounts to nothing unless it is used for serving the needy. It's this belief that prompted her to make her father, a salon owner, spend his savings of Rs 5 lakh on the hapless migrant labourers, who are hit hard by the Coronavirus-induced lockdown.   

International recognition came calling the 13-year-old girl as she was appointed as 'Goodwill Ambassador (GWA) for the Poor' by the United Nations Association for Development and Peace (UNADAP) on Friday. Nethra's feat came as a double joy for her family as her father, C Mohan, a resident of Melamadai, was lauded by Prime Minister Narendra Modi in his 'Mann ki Baat' programme, broadcast on Sunday.
Source: The New Indian Express
Fit India to launch special films promoting 10 indigenous sports of India under Ek Bharat, Shrestha Bharat
The series is aimed at creating awareness about not just the indigenous games but also the culture and heritage of the states to which they belong.
Ek Bharat Shreshtha Bharat aims to create awareness among youngsters about the culture and heritage of states across India.  This initiative aims to further that effort.

These special films have been customized for school-going children to make them aware of the history and heritage of the state from which a game emanates, the particular sport as well as how it is played. The 10 episodes can be watched from Monday to Friday, June 8 to June 19, at 11am, on the Fit India YouTube page and Ministry of Human Resource Development digital platforms.

The short films have been curated in a manner to highlight and bring forth the origin, progress and other key aspects of each sport.
Source: DD News
Former footballer Hamza Koya dies of COVID-19  in Kerala
Native of nearby Parappanangadi, Hamza Koya (61) had settled in Mumbai. He and his family had come down to his hometown on May 21 and had been under quarantine.

Hamsakoya's five family members have also tested positive and are undergoing treatment.

Malappuram District Medical Officer Dr K Sakeena said Hamsakoya's wife and son showed symptoms of COVID-19 first and were admitted to the hospital.

All possible medical care was given to the deceased, but he breathed his last early this morning, she said.
Source: DD News
INMA unveils Global Media Awards winners, COVID campaigns get top nod
INMA today announced first-place winners in the 2020 Global Media Awards competition, with the grand prize presented to the collective work of news media companies in their inspirational response to the COVID-19 crisis.

Because the COVID-19 crisis caused the cancellation of INMA's World Congress of News Media in Paris, today's announcement was broadcast globally on multiple channels. Jamaican TV host Terri-Karelle Reid emceed the awards announcement, with commentary from Chrissy Towle of the Google News Initiative and Earl Wilkinson of INMA. To view a recording of the broadcast, click here.

The INMA Global Media Awards competition rewards innovation and excellence in growing audience, brand, and revenue.
Source: INMS
Rahul Shrivastava appointed as next Ambassador of India to Romania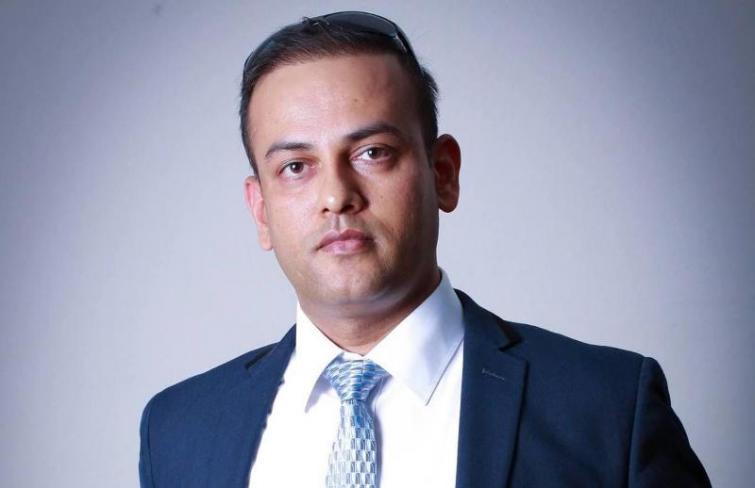 Rahul Shrivastava, a senior diplomat has been appointed as the next Ambassador of India to Romania.

Mr Shrivastava, a 1999 batch IFS officer is presently a joint secretary in the ministry.
Source: All India Radio
Union Minister Dr. Jitendra Singh launches COVID BEEP, India's first physiological parameters monitoring system for COVID-19 patients
Union Minister for Development of North Eastern Region, Dr. Jitendra Singh today said 'awareness' and not 'anxiety' is the key to fighting COVID-19. Launching COVID BEEP, India's first indigenous, cost effective, wireless physiological parameters monitoring system for COVID-19 patients, Dr Singh said COVID BEEP is to emerge as an antidote to the original COVID.

COVID BEEP (Continuous Oxygenation & Vital Information Detection Biomed ECIL ESIC Pod) is India's first indigenous, cost effective, wireless physiological parameters monitoring system for COVID-19 patients, developed by ESIC Medical College Hyderabad in collaboration with IIT Hyderabad and Department Of Atomic Energy. Dr Singh stressed on the importance of prevention and awareness in dealing with this pandemic effectively, now that the process of unlock has started in a phased manner after an effective and timely lockdown for close to two months.
Source: All India Radio
NABARD provides Rs 270 crore to Assam Gramin Vikash Bank
In the wake of the COVID-19 Pandemic, National Bank for Agriculture and Rural Development (NABARD) has made available a Special Liquidity Facility (SLF) of Rs 270 crore to Assam Gramin Vikash Bank for supporting the agricultural activities of the farmers.

Following the pandemic, NABARD has provided Rs 25,000 crore nationwide for providing liquidity support to Cooperative Banks, Regional Rural Banks and Micro Finance Institutions (MFIs) during 2020-21 with a view to ensuring continued flow of credit to farmers to carry out their agricultural operations smoothly even during COVID-19 pandemic period.
Source:  The Economic Time
Scientists develop indigenous nasopharyngeal swabs
In the current pandemic scenario, global supplies of nasopharyngeal (NP) swabs are not dependable resulting in supply chain delays, escalating prices and variable quality. CSIR-National Chemical Laboratory (CSIR-NCL), Pune, has developed an indigenous NP swab for collecting samples from the throat cavity of COVID-19 patients. The need for making available domestic technology for NP swabs was flagged by CSIR to NCL in mid-April.

Nasopharyngeal swab is a medical device with stringent specifications of quality, polymer grade, dimensions and sterilization. An NP swab consists of a cylindrical plastic stick with a brush-like tip of synthetic bristles/flocks. The flocking process helps align the fine bristles in a parallel orientation on the stick head, much like a tooth brush, except that this has round uniform geometry and the NP swab bristles are of micron diameter.
Source: Ministry of Science & Technology
Monika Kapil Mohta appointed India's next Ambassador to Switzerland
Diplomat Monika Kapil Mohta has been appointed as the next Ambassador of India to Switzerland, the Ministry of External Affairs (MEA) announced on Monday. Presently, Mohta, an Indian Foreign Service officer of 1985 batch, is India's Ambassador to Sweden. "She is expected to take up the assignment shortly," said the MEA.

Mohta has served as the Ambassador of India to Poland and Lithuania from July 2011 to January 2015. Prior to that, she served as the Director of The Nehru Centre and Minister (Culture) at the High Commission of India to the United Kingdom from 2006 to 2011.
Source: Times Now News
Task Force set up to examine matters pertaining to age of motherhood
The Government of India in a gazette notification issued on 04th June 2020, has set up a Task Force to examine matters pertaining to age of motherhood, imperatives of lowering MMR, improvement of nutritional levels and related issues.

Union Finance Minister, during her Budget Speech for 2020-21 in the Parliament stated that "Women's age of marriage was increased from fifteen years to eighteen years in 1978, by amending erstwhile Sharda Act of 1929. As India progresses further, opportunities open up for women to pursue higher education and careers.

There are imperatives of lowering MMR as well as improvement of nutrition levels. Entire issue about age of a girl entering motherhood needs to be seen in this light. I propose to appoint a task force that will present its recommendations in six months' time.." (Ref.: Para 67 of the Budget Speech for FY 2020-21).
Source: Ministry of Women and Child Development