Daily GK Update: 6th June 2020
World Food Safety Day 2020
The second World Food Safety Day (WFSD) will be celebrated on 7 June 2020 to draw attention and inspire action to help prevent, detect and manage foodborne risks, contributing to food security, human health, economic prosperity, agriculture, market access, tourism and sustainable development. 

Following the success of the first celebration in 2019, this year again WFSD reinforces the call to strengthen commitment to scale up food safety made by the Addis Ababa Conference and the Geneva Forum in 2019 under the umbrella of "The Future of Food Safety".  WHO, in collaboration with the Food and Agriculture Organization of the United Nations (FAO) is pleased to facilitate Member States efforts to celebrate the World Food Safety Day.

Under the theme "Food safety, everyone's business", the action oriented campaign will promote global food safety awareness and call upon countries and decision makers, the private sector, civil society, UN organizations and the general public to take action.
Source: World Health Organization
G20 countries pledge over $21 billion to fund fight Covid-19 pandemic
Member countries of the Group of 20 on Friday pledged more than $21 billion to fight the coronavirus (Covid-19) pandemic, the group said on Saturday.

"The G20, with invited countries, has coordinated the global efforts to support the fight against the Covid-19 pandemic. To date, G20 members and invited countries have pledged over $21 billion to support funding in global health," the forum said in a statement cited by Sputnik news agency.

The announcement comes after the G20 countries injected more than $5 trillion into the global economy in late March to fight the virus and its economic impact.
Source: Business Standard
Chhattisgarh govt launches 'Spandan Campaign' to check suicide and fratricide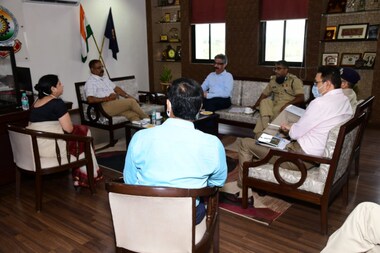 The Chhattisgarh government launched the Spandan Campaign on Wednesday to contain incidents of suicide and fratricide involving police personnel, and instructions were issued to senior officers to strictly adhere to guidelines in this regard.

Chhattisgarh's director general of police DM Awasthi issued an order to all superintendents of police and commandants of armed police forces, saying they should strictly follow instructions to curb suicides and incidents of fratricide.

All superintendents of police will start a parade at police lines in their districts every Friday, keeping in mind social distancing, and grievances of personnel will be redressed after the event. The order made it mandatory for superintendents of police to facilitate counselling and medical treatment for depressed officers and staff by psychiatrists or psychologists in their district headquarters.
Source: Hindustan Times
Plea for renaming India as 'Bharat' can go to Centre as representation: Supreme Court
The Supreme Court on Wednesday ordered that a plea to change India's name exclusively to 'Bharat' be converted into a representation and forwarded to the Union government for an appropriate decision.

"Bharat and India are both names given in the Constitution. India is already called 'Bharat' in the Constitution", Chief Justice of India (CJI) Sharad A. Bobde orally said in a virtual court hearing.

The petitioner, Namah, through his counsel, said 'India' is a name of foreign origin. The name can be traced back to the Greek term 'Indica'.

Counsel said, "The word 'Bharat' is closely associated to our Freedom Struggle. The cry was 'Bharat Mata ki Jai'."

The court said the petition be transformed into a representation and forwarded to the ministries, primarily the Ministry of Home Affairs.

The petition seeks an amendment to Article 1 of the Constitution, which says "India, that is Bharat, shall be a Union of States…". It wants 'India' to be struck off from the Article.
Source: The Hindu
CeNS develops low-cost catalyst for hydrogen generation from water
Scientists from The Centre for Nano and Soft Matter Sciences (CeNS), an autonomous institute of the Department of Science and Technology (DST), have found out a low cost and efficient way to generate hydrogen from water using Molybdenum dioxide as a catalyst.

The scientists have shown that Molybdenum dioxide (MoO2) nanomaterials annealed in hydrogen atmosphere can act as efficient catalysts to reduce the energy input to bring about water splitting with great efficiency. Electrolytic splitting of water is a promising method to generate hydrogen but requires energy input that can be brought down in the presence of a catalyst. 

Molybdenum dioxide has the potential to replace the currently employed catalyst Pt, which is expensive and has limited resources. MoO2 is a conducting metal oxide that is one of the low-cost catalysts with good efficiency and stability for hydrogen evolution.
Source: Ministry of Science & Technology
Saving Biodiversity through Effective Waste Management
In commemoration of World Environment Day 2020, Shri Hardeep Singh Puri, Minister of State (I/C), Ministry of Housing & Urban Affairs (MoHUA) launched a series of advisories at Nirman Bhavan, New Delhi. The program titled 'Saving Biodiversity through Effective Waste Management' was webcast live and was also attended by Shri DurgaShanker Mishra, Secretary, MoHUA and Shri V.K. Jindal, Joint Secretary and National Mission Director, Swachh Bharat Mission-Urban (SBM-U).

The three key advisories released included the 'Advisory on Material Recovery Facilities (MRFs) for Municipal Solid Waste (MSW)', 'Advisory on Landfill Reclamation' and a 'Consultative Document (draft) on On-site and Off-site Sewage Management Practices' prepared by the Central Public Health and Environmental Engineering Organisation (CPHEEO) under SBM-U. Speaking at the event, the Minister said, " On this day, we get the chance to reinforce the intrinsic connection between biodiversity conservation and effective waste management.  Swachhata and conservation of biodiversity indeed go hand in hand".
Source: Ministry of Housing & Urban Affairs
Russian Language Day – June 6, 2020
UN Russian Language Day coincides with the birthday of Aleksandr Pushkin on June 6, a Russian poet considered the father of modern Russian literature.

Russian is a Slavic language, whose closest relatives are Ukrainian, Belarusian, and Rusyn (Ukraine and Slovenia). In the 19th century, what we now classify as modern Russian was known as "Great Russian." Belarusian was called "White Russian," and Ukrainian was "Little Russian." Today over 170 million people speak Russian.

UNESCO established this day in 2010.
Source: National Today
Atal Innovation Mission
The Atal Innovation Mission (AIM) is a flagship initiative set up by the NITI Aayog to promote innovation and entrepreneurship across the length and breadth of the country, based on a detailed study and deliberations on innovation and entrepreneurial needs of India in the years ahead.

AIM is also envisaged as an umbrella innovation organization that would play an instrumental role in alignment of innovation policies between central, state and sectoral innovation schemes incentivizing the establishment and promotion of an ecosystem of innovation and entrepreneurship at various levels – higher secondary schools, science, engineering and higher academic institutions, and SME/MSME industry, corporate and NGO levels.
Source: Niti Aayog