Daily GK Update: 3rd May 2020
NMCG & NIUA organized IDEAthon on 'The Future of River Management'
The National Mission for Clean Ganga (NMCG) under the Ministry of Jal Shakti and National Institute of Urban Affairs (NIUA) organized an IDEAthon on "The future of River Management' to explore how the COVID-19 crisis can shape River Management strategies for the future. Dealing with the COVID-19 crisis has been a challenge for most countries across the globe which has witnessed some sort of lockdown in most of the places.
While the general narrative around this crisis has been that of anxiety and concern, the crisis has also thrown up some positive developments.
One of these is the visible improvement in the natural environment. Rivers have become cleaner. The air has become fresher. There has been a significant drop in GHG emissions. Animals and birds are returning to and enjoying their habitats. Purely from a river management point of view, in India there has been a noticeable improvement in the water quality of the Ganga and Yamuna in the last few weeks.
During the last year or so, the Gangetic Dolphin, an indicator species, has been showing improvements with sightings at several stretches of the river. The sighting of this is more frequent during lockdown in Ganga and its tributaries. Venice's (in) famously polluted canals have become clearer as tourists stay away. For the first time in recent history, dolphins are back in the waterways of Italy as navigation has stopped.
Source: Ministry of Jal Shakti
Centre launches project monitoring unit for early operationalisation of coal blocks
The Centre on Thursday announced the launch of a project monitoring unit to facilitate early operationalisation of coal blocks, a move that may attract bidders during auction of commercial mines.
The step will help promote ease of doing business in India as it will facilitate coal mines allocatees to obtain timely approvals for operationalising the mines.
"Ministry of Coal (MoC) on Monday launched a project monitoring unit (PMU) for facilitation of early operationalisation of coal mines allocated by the central government," the ministry said in a statement.
Source: The Economic Times
Core sectors contract 6.5% in March, hit by coronavirus lockdown
India's eight core sectors contracted 6.5 per cent in March compared to 7.1 % growth in February as the economy took a blow from a nationwide lockdown to contain the coronavirus pandemic.
Data released by the industry department on Thursday showed crude oil sector contracted 5.5 per cent, natural gas 15.2 per cent, refinery products 0.5 per cent, fertilisers 11.9 per cent, steel 13 per cent, cement 24.7 per cent and electricity 7.2 per cent during the month. Coal grew 4 per cent—the only sector to do so.
The eight core industries comprise 40.27 per cent of the weight of items included in the Index of Industrial Production (IIP).
Source: Business Standard
Health minister Dr Harsh Vardhan launches multimedia guide 'COVID Katha'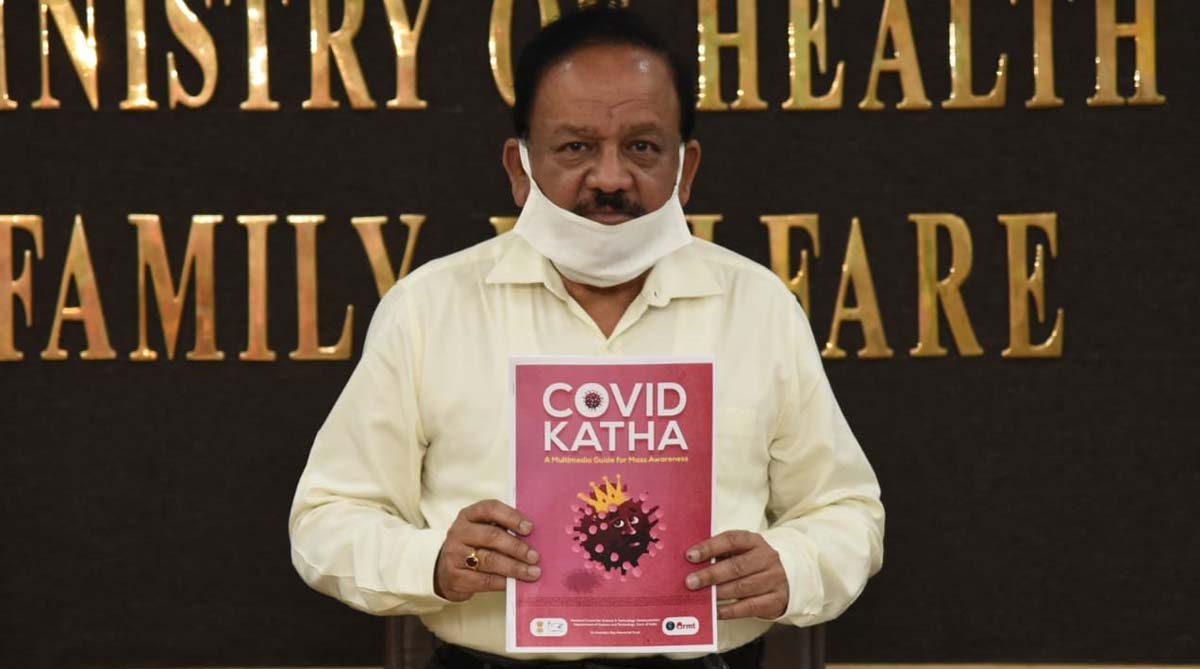 Union Health Minister Dr Harsh Vardhan on Sunday launched 'COVID Katha', a multimedia guide on the Covid-19 disease.
According to a release, the Union Minister interacted with heads of all Autonomous Institutions (AIs) and Subordinate offices of Department of Science and Technology (DST) via video conferencing on the occasion of 50th DST Foundation Day about their S & T initiatives, particularly in relation to their endeavours for combating the Covid-19 outbreak.
Source: Business Standard