Daily GK Update: 29th April 2020
Covid-19 impact: APEC might clock 2.7% economic decline, to rebound in 2021
The Asia-Pacific Economic Cooperation (APEC) region is expected to post a 2.7 per cent economic decline in 2020 due to the impact of Covid-19.
This will be the most significant fall since the near-zero growth rate logged in 2009 during the global financial crisis, according to the APEC Secretariat.
Last year, the 21-member region recorded economic growth of 3.6 per cent.
The region's unemployment rate is projected to rise to 5.4 per cent in 2020 from 3.8 per cent in 2019, or an additional 23.5 million workers being unemployed in 2020, according to a report released by the APEC Secretariat.
Source: Business Standard
5 Million People Displaced In India Due To Disasters In 2019: Report
Five million people were displaced in India last year, the highest in the world, due to disasters, including cyclones and monsoon floods, a new report by a monitoring centre said.
The displacements were a result of a combination of increasing hazard intensity, high population exposure and high levels of social and economic vulnerability, the report by the Internal Displacement Monitoring Centre (IDMC) released on Tuesday said.
South Asia recorded 9.5 million new displacements associated with disasters in 2019, the highest figure since 2012 and the floods triggered by the monsoon in India and Bangladesh and cyclones Fani and Bulbul were among the events that forced most people to flee their homes both in the region and globally.
Source: NDTV
IMD releases list of 169 names for tropical cyclones
The India Meteorological Department (IMD) on Tuesday released a new list containing 169 names of future tropical cyclones that would emerge in the Bay of Bengal and the Arabian Sea.
IMD, one of the six Regional Specialised Meteorological Centres (RSMC) in the world, is mandated to issue advisories and name tropical cyclones in the north Indian Ocean region. Globally, there are six RSMCs and five Tropical Cyclone Warning Centres performing similar duties.
VDO.AI
The Met office issues tropical cyclone advisories to 13 member countries of the World Meteorological Organisation (WMO)/ESCAP (United Nations Economic and Social Commission for Asia and the Pacific) including India, Bangladesh, Iran, Maldives, Myanmar, Oman, Pakistan, Qatar, Saudi Arabia, Sri Lanka, Thailand, United Arab Emirates and Yemen.
Source: The Indian Express
Lockdown impact: Ganga water in Haridwar becomes 'fit to drink' after decades
A mid the nationwide lockdown to contain the spread of the Covid-19 outbreak, the water quality of river Ganga at Har-ki-Pauri in the holy city of Haridwar has been classified as 'fit for drinking', an unprecedented success which the ambitious schemes of the government could not do for years even after pumping thousands of crores.
Speaking to India Today TV, environmental scientist and professor BD Joshi said "The remarkable level of purity is due to the absence of any industrial pollutants and garbage. It is after a long time the water quality of the Ganga river has become good for ritual sipping (achaman). In some stretches, the water has also become fit for drinking after its quality has been tested at different parameters. Such a remarkable improvement has not been witnessed in the past 30-40 years."
Source: India Today
JNCASR scientists develop a natural product based Alzheimer inhibitor
Scientists from Jawaharlal Nehru Centre For Advanced Scientific Research (JNCASR) an autonomous institute under the Department of Science & Technology (DST), Govt. of India have modified the structure of Berberine, a natural and cheap product similar to curcumin, available commercially, into Ber-D to use as a Alzheimer's inhibitor. Their research work has been published in the scientific journal iSceince.
Alzheimer's disease is the most prevalent neurodegenerative disorder and accounts for more than 70% of all dementia. The multifactorial nature of the disease attributed to multifaceted toxicity has made it difficult for researchers to develop effective medication.
Source: Ministry of Science & Technology
Electrostatic disinfection technology transferred for commercialisation
CSIR-Central Scientific Instruments Organisation (CSIR-CSIO), Chandigarh, has designed and developed an innovative technology for effective disinfection and sanitization to fight with corona pandemic. CSIR-CSIO has transferred this technology to a Nagpur-based company, Rite Water Solutions Pvt. Ltd., for commercialization and large-scale production. This technology has been found very efficient and effective to stop the spread of coronavirus and pathogens, say CSIR-CSIO scientists.
Electrostatic Disinfection Machine is developed based on the electrostatic principle. It produces uniform and fine spray droplets of disinfectants in the size range of 10-20 micrometre to kill microorganisms and viruses. Due to the small size of droplets, the surface area of spray droplets increases thereby enhancing the interaction with harmful microorganisms and coronavirus. The machine uses very less disinfection material as compared to conventional methods, which helps to save natural resources with negligible increase of chemical waste in the environment.
Source: Business Line
HCARD, a robot, to assist frontline COVID-19 healthcare warriors
Healthcare workers at hospitals are risking COVID-19 infection by taking care of those infected by it 24/7. Perhaps the level of risk may get reduced hereafter with the help of a new friend, HCARD. The robotic device HCARD, in short for Hospital Care Assistive Robotic Device, can help frontline healthcare workers in maintaining physical distance from those infected by coronavirus.
HCARD is developed by Durgapur-based CSIR lab, Central Mechanical Engineering Research Institute. The device is equipped with various state-of-the-art technologies and works both in automatic as well as manual modes of navigation.
This robot can be controlled and monitored by a nursing booth with a control station having such features as navigation, drawer activation for providing medicines and food to patients, sample collection and audio-visual communication.
Source: India Science Wire
Government starts e-retail chain for rural India
It's the desi, rural version of Flipkart and Amazon, and is promoted by the government. Concerned over the severe restrictions on mobility and lack of adequate supplies in times of Covid-19, the government has facilitated the creation of a village-level online retail chain, planning massive supplies of essentials through fast-expanding outlets that are taking orders online and offline, and carrying out home deliveries.
The ambitious plan is being led by the Common Service Centres, the rural digital outreach vehicle of the government that reaches over 60 crore people through its nearly 3.8 lakh outlets.
Source: The Times of India
Cyber attack fears high due to work from home: NTRO
India's critical sectors may fall prey to inimical forces which could use relaxations in geofencing restrictions granted to employees working from home to make cyber attacks, said an assessment by the National Technical Research Organisation (NTRO). Sectors including government undertakings, strategic and public enterprises, banking and financial services, telecom, power, energy and transport, among others, are susceptible to such attacks.
"In view of the lockdown, several critical sector entities have relaxed their geofencing restrictions to allow their personnel to log-in and work from home. This has increased the attack surface available to threat actors (cyber criminals) from neighbouring countries. Another modus operandi being used by them is to send out legitimate-looking coronarelated advisories impersonating as officials from the government and health organisations, through malicious e-mail attachments," said an official from the National Critical Information Infrastructure Protection Centre (NCIIPC).
Source: The Economic Times
Agartala Smart City uses mobile kiosk for COVID-19 sample collection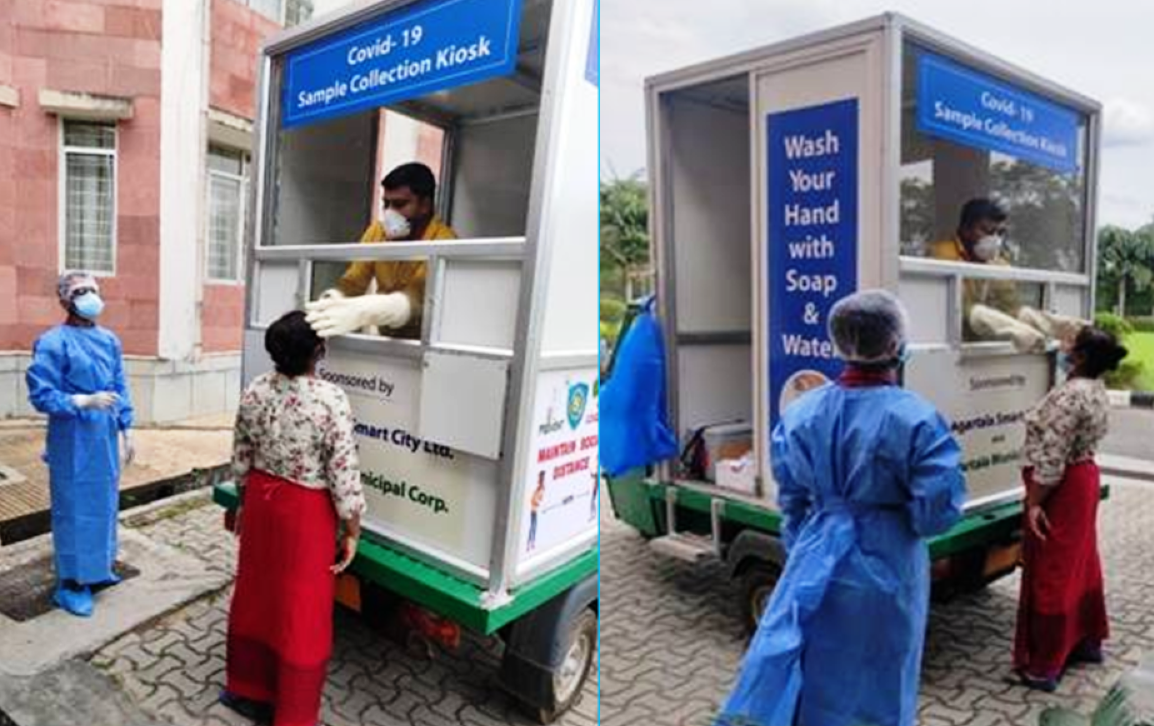 Agartala Smart City has designed and handed over a Mobile COVID-19 sample collection kiosk to city's Chief Medical Officer (CMO). The kiosk ensures protection to the sample collecting doctor & prevents wastage of personal protection equipment (PPE). This initiative is a major step by Agartala in the fight against Covid-19.
Mounting of the kiosk on three wheeler vehicle enables it to navigate through narrow lanes & helps collection of samples from community itself. There is no need for patients to come to hospital for giving sample. The kiosk also facilitates mass testing of larger number of people in a shorter timeframe. This initiative was taken by the Municipal Commissioner, Agartala Municipal Corporation, who is also the Chief Executive Officer (CEO) of Agartala Smart City Limited.
Source: Ministry of Housing & Urban Affairs
India along with 30 countries deliberates on issues of Climate Changeinfirst ever virtual Petersberg Climate Dialogue
The eleventh session of Petersberg Climate Dialogue witnessed India along with 30 other countries deliberating over ways and means to tackle the challenge of reinvigorating economies and societies after COVID-19, while enhancing collective resilience and catalysing climate action while also supporting in particular those most vulnerable.
Representing India in the first virtual Petersberg Climate Dialogue,Union Minister for Environment, Forest and Climate Change, Shri Prakash Javadekar said that, Today, as the World is unitedly engaged in findinga vaccine for novel Coronavirus, likewise we should have Climate Technology as open source which must be available at affordable cost.
Source: India Education Diary