Daily GK Update: 28th May 2020
World Hunger Day 2020: Significance of World Hunger Day amidst Coronavirus pandemic
As we observe the World Hunger Day on May 28 amidst the pandemic's onslaught, it is time to revisit the structural challenges behind this human crisis. According to the United Nations website, till 2015 the number of people suffering from hunger was falling consistently and has only risen after the passage of that period.
Nearly 135 million people also face chronic hunger owing to calamities caused by armed conflict and climate change. The World Food Programme predicts the current statistic of 135 million could go up by another 130 million by the time 2020 ends, due to the coronavirus pandemic.
Source: Financial Express
Punitus Sanctus: New Freshwater Fish

Recently, Puntius Sanctus, a new freshwater fish, has been found in Velankanni, Tamil Nadu. It has been found in a small waterbody.
The fish has been identified and named by the Department of Zoology, BJM Government College in Kollam. Sanctus means holy (pilgrim town) in Latin.
Species of Puntius are known from India mainly from the drainages of the Western and Eastern Ghats, as well as the Eastern Himalayas.
The genus shows great species richness in Kerala and Tamil Nadu.
The Puntius species are known locally as Paral in kerala and Kende in Tamil Nadu.
It belongs to the family 'Cyprinidae'.
Source: Others
WHO suspends hydroxychloroquine trial as COVID-19 treatment
The World Health Organization said Monday it had temporarily suspended clinical trials of hydroxychloriquine as a potential treatment for COVID-19 being carried out across a range of countries as a precautionary measure.
The decision came after publication last week of a study in The Lancet which indicated that using the drug on COVID-19 patients could increase their chances of dying, WHO chief Tedros Adhanom Ghebreyesus told a virtual press conference.
Tedros said that the executive group of the so-called Solidarity Trial, in which hundreds of hospitals across several countries have enrolled patients to test several possible treatments for the novel coronavirus, had as a precaution suspended trials using that drug.
Source: Medical Press
Karnataka to soon have health register of all citizens
The Karnataka government on Wednesday said it would soon launch a project to maintain the health database of all its citizens by having a "State Health Register." A first of its kind initiative, the State Health Register will be a robust and standardized health repository of all the citizens, an official release said.
This project will be implemented first in Chikkaballapur district on an experimental basis.
"The COVID-19 experience has demonstrated the necessity of having a robust, real-time public health data and therefore, there is a need to maintain a repository of health data of each and every citizen," Medical Education Minister K Sudhakar was quoted as saying in the release.
The government would undertake a survey of all 6.5 crore people in the state using a team of Primary Health Centre officials, revenue officials, education department staff and ASHA (Accredited Social Heath Activist) karyakartas, he said.
Source: The Economic Times
19 thousand crore rupees released under PM-KISAN scheme benefiting more than 9.5 crore farmers during last two months
A total 9.67 crore farmers have been benefited and an amount of more than 19 thousand crore rupees has been released under the Pradhan Mantri Kisan Samman Nidhi (PM-KISAN) scheme during the last two months.
Government said, 4.57 lakh metric tonnes of pulses have been dispatched to the States and Union Territories under the Pradhan Mantri Garib Kalyan Yojana (PM-GKY). Out of this, 1.78 lakh metric tonnes pulses have been distributed to 13.4 crore beneficiaries.
Source: All India Radio
EU announces financial 'firepower' of 1.85 trillion with 750 billion for COVID recovery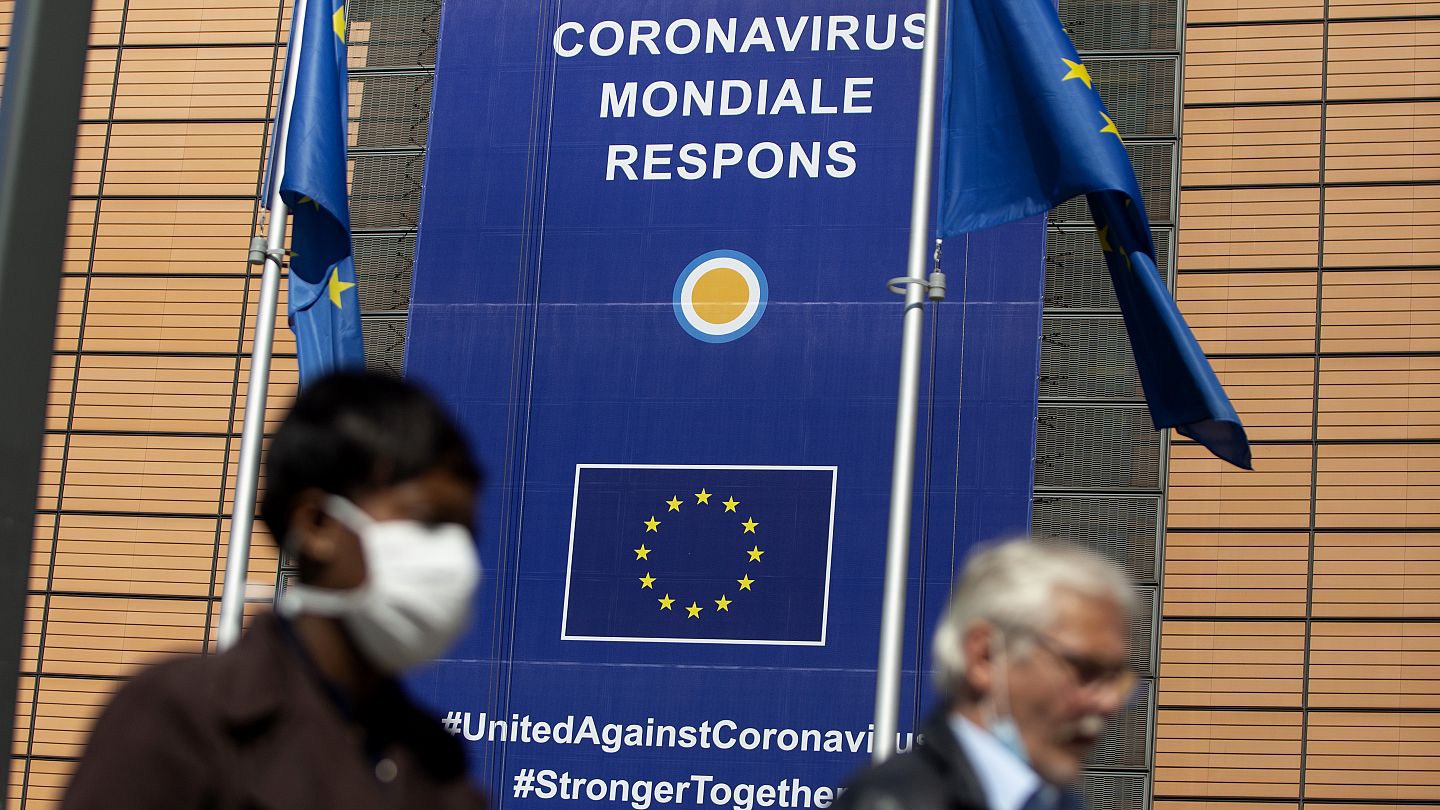 The big day has arrived the European Commission has laid out its viison for post-pandemic recovery funds, and it is worth 1.85 trillion euros. The plan relies on both the long-term EU budget (2021-27) and a special recovery fund.
Commission President Ursula von der Leyen is addressing the European Parliament, an effort to persuade MEPs who also get a say on the final plan.
"This is Europe's moment," she said. "We either all go it alone…or we pave a strong path for our people and for the next generation."
Source: Euronews
E-cigarette Users in India to Observe World Vape Day on May 30
The following press release comes to you under an arrangement with NewsVoir. PTI takes no editorial responsibility for the same.) New Delhi, Delhi, India (NewsVoir) To mark their win in the battle against smoking, over 40 million vapers from across the globe will come together on Saturday to celebrate World Vape Day.
In India, the representative body of e-cigarette users, the Association of Vapers India (AVI), will hold a number of virtual campaigns to speak up against the ban imposed by the central government late last year.
The World Vape Day celebration will see a global social media drive where AVI along with consumer advocacy organisations from 34 nations will spread awareness on the harm reduction potential of vaping and its effectiveness in helping smokers quit.
Citing numerous international studies and research that vaping is much less harmful than smoking, the vapers' body has been demanding that the e-cigarette sale ban in India be rescinded so that the country's 100 million smokers can have access to an effective means to quit. "Banning a less harmful alternative to smoking protects the cigarette industry, in which the Indian government continues to hold a major share.
Source: Outlook
NPCI launches AI virtual assistant PAi
National Payment Corporation of India (NPCI) has launched an artificial intelligence (AI)-based chatbot to create awareness around its digital payment platforms like FASTag, RuPay and UPI. Called PAi, the chatbot aims to improve digital financial inclusion in the country.
The AI virtual assistant PAi can be accessed 24/7. It will provide users information and guidance about NPCI products round the clock. Customers can ask queries via text or voice on the websites of NPCI, RuPay, and UPI Chalega.
Through PAi, users get verified automated responses to their queries on all NPCI's products. PAi would also be accessible to global RuPay Card holders as well. Right now, PAi is available in English and Hindi languages. NPCI plans to soon launch it in other regional languages.
Source: The Times of India
Sports Authority of India deposits Rs 30,000 each as out of pocket allowance in accounts of 2,749 #KheloIndia athletes
Sports Authority of India (SAI) on Sunday said that it has deposited Rs 30,000 each as out of pocket allowance in accounts of 2749 Khelo India athletes, adding up to Rs 8.25 crore in all.
"The money has been transferred to the bank accounts of the athletes on May 22, 2020. A total of 2893 athletes will be given the OPA for the period, with the funds to the remaining 144 athletes to be transferred by the end of May 2020," a press release from SAI said.
The allowance is for the first quarter of 2020-21. The allowance includes expenses towards travel to hometown, diet charges while at home and other miscellaneous expenses incurred by the athletes.
The release further said that athletes from 35 states and union territories have been given the OPA in 21 sporting disciplines with the maximum number of them from Maharashtra (386), Haryana (381), Delhi (225), Punjab (202) and Tamil Nadu (165). The OPA is Rs 1.20 lakh annually and is a part of the Khelo India scholarship of Rs 6.28 lakh that is given to each athlete selected under the scheme, annually.
Source: India Education Diary