Daily GK Update: 22nd April 2020
Indian herpetologists discover new viper species in Arunachal Pradesh
Indian herpetologists have discovered a new species of viper family in Pakke Tiger Reserve in Arunachal Pradesh and named it after Salazar Slytherin, a fictional character in JK Rowling's Harry Potter series.
The green pit viper species was discovered by a team led by Zeeshan Mirza of the Bengaluru-based National Centre for Biological Sciences, and his collaborators from Bombay Natural History Society, Fergusson College Pune, and the Wildlife Institute of India, in Dehradun.
The viper, called Trimeresurus Salazar, has a unique orange to reddish stripe, present on the head and body in males.
Source: Business Line
April 23: World Book Day
World Book Day is celebrated every year on April 23. UNESCO undertakes the responsibility of the event. With the help of the event, UNESCO aims to inculcate reading habits among people, especially the youth and highlight the various issues surrounding authors, publishers and other related parties.
Since Copyright is a big issue in the world of books and writing, there is always a focus on the issue on the World Book Day. That's why, in many parts of the world, this day is also known as the World Book and Copyright Day.
Source: Calendar Labs.com
Union Cabinet clears Rs 15,000 crore Covid-19 emergency response package
The Cabinet on Wednesday approved ₹15,000 crore for 'India Covid-19 Emergency Response and Health System Preparedness Package' to mount an urgent response for containing the spread of the virus in India, through development of dedicated treatment facilities and setting up laboratories among others.
The fund will be utilized in three phases.
A total of ₹7,774 crore has been provisioned for Covid-19 emergency response, and the rest for medium-term support, ranging from one to four years, to be provided under mission-mode approach.
Source: Business Line
Cabinet okays ordinance to protect frontline workers
The Centre is set to promulgate an ordinance that will make violence and harassment against healthcare workers deployed in combating Covid-19 a non-bailable offence.
The offence will attract a maximum punishment of seven years' imprisonment and Rs 5 lakh fine. The move follows reports of attack on doctors and other health workers in different parts of the country and a demand from the community for a law to protect them.
Source: The Economic Times
Coronavirus lockdown 2.0: These govt, private industrial units to remain open; check out fresh guidelines
The Ministry of Home Affairs has decided to keep certain government and private industrial establishments open in the second phase of country-wide lockdown till May 3. According to the latest guidelines issued by the Centre, industries operating from rural areas, i.e. outside the limits of municipal corporations and municipalities, will remain open during the extended lockdown.
Industrial units in special economic zones and export-oriented units, industrial estates and townships will also resume work. However, they will have to ensure the stay of workers in premises or adjacent buildings. The companies will also be responsible for the transportation of workers to the campuses while ensuring all social distancing norms are followed.
Source: Business Today
India ranks 142nd on global press freedom index
India has dropped two places on a global press freedom index to be ranked 142nd out of 180 countries in the annual Reporters Without Borders analysis released on Tuesday.
'The World Press Freedom Index 2020' said that with no murders of journalists in India in 2019, as against six in 2018, the security situation for the country's media might seem, on the face of it, to have improved.
"However, there have been constant press freedom violations, including police violence against journalists, ambushes by political activists, and reprisals instigated by criminal groups or corrupt local officials," it said.
Source: The Economic Times
Indian Researchers Plan Clinical Trials of Sepsis Drug Against New Coronavirus
Among other strategies to beat the novel coronavirus, researchers at the Council of Scientific and Industrial Research (CSIR) are also repurposing existing drugs. And one of their latest candidates – Sepsivac, a commercial drug used to treat patients with gram-negative sepsis – seems to offer some promise.
The human body produces defensive agents called cytokines in response to any infection. Cytokines are essential for the host's defence against pathogens. There are six different types of cytokines, and each type is composed of different families of substances. A specific mix of cytokines is called a cytokine profile, and different cytokine profiles act on different pathogens.
Source: Science The Wire
India attends G20 Agricultural Ministers Meet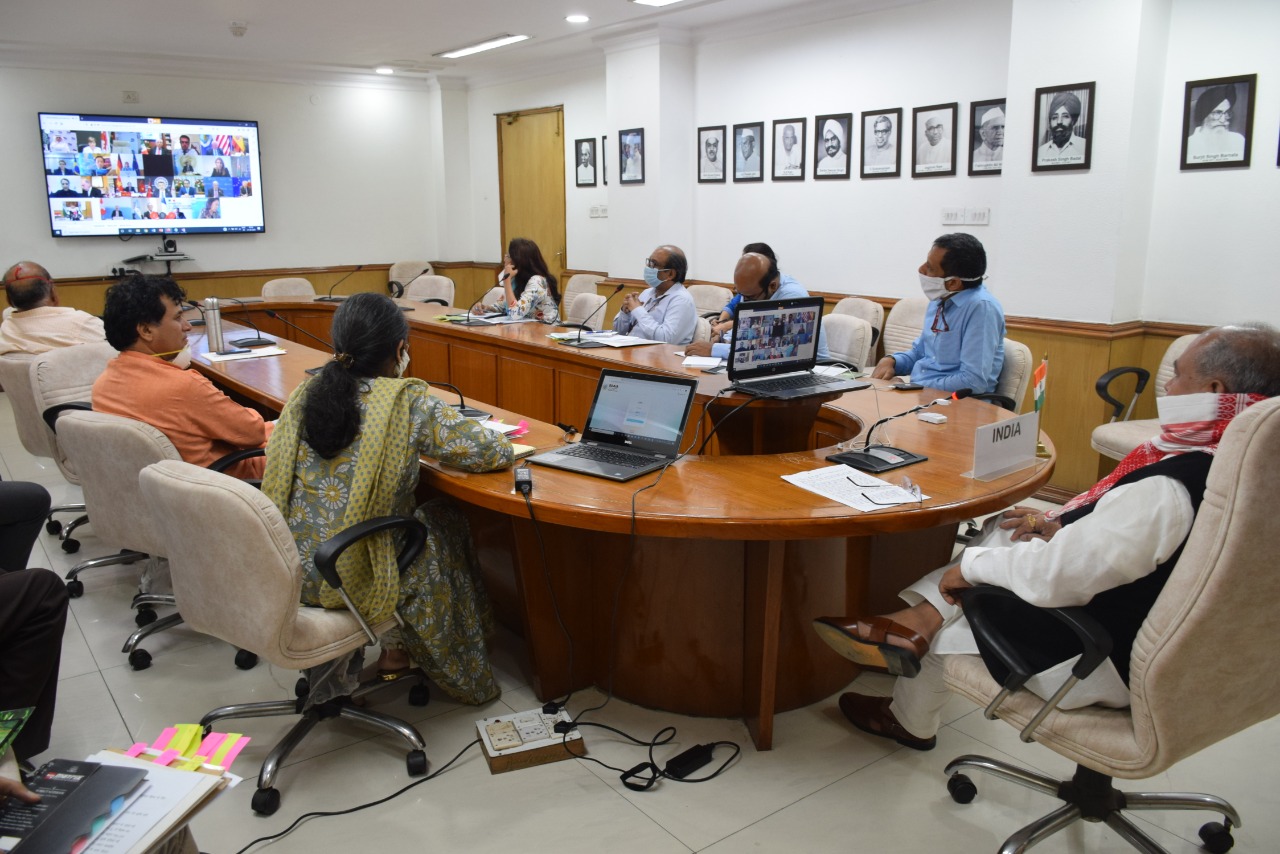 On April 21, 2020, the Agriculture Minister Narendra Singh Tomar attended the G20 Agriculture Ministers Meet through video conferencing.
The countries have called for continued support of AMIS through voluntary financial support.
The meet also stressed on the importance of food losses and wastages due to the disruption in food supply chains.
Source: The World News Monitor
TIFAC explores best methods to revive Indian economy post COVID-19
The Technology Information, Forecasting and Assessment Council (TIFAC), an autonomous technology think tank under the Department of Science & Technology (DST), Government of India, by virtue of its mandate of thinking for future, is preparing a white paper to strategize revival of post-COVID 19 Indian economy.
This document would mainly focus on strengthening Make in India initiatives, commercialization of Indigenous technology, developing a technology-driven transparent Public Distribution System (PDS), efficient rural health care delivery, reduction of import, adoption of emerging technology domains like AI, Machine Learning, Data Analytics and many more. It will be soon submitted to the decision-making authorities of the Government.
Source: Ministry of Science & Technology
Pune municipal corporation develops 'Saiyam' app to track home-quarantine
To track home quarantine people on a real-time basis, Pune Municipal Corporation has developed a mobile application named 'Saiyam'. The mobile application has GPS tracking so that whenever quarantined citizens leave their homes, city administration gets alerted and the local ward or the local police station gets informed, who then visit the family.
"The municipal corporation has appointed dedicated teams for five zones of the city to monitor home quarantined citizens with technology in their hand. The team is conducting follow-up with people under home quarantine on a daily basis," according to a statement issued by the corporation.
Source: The Economic Times
ICMR to States: "Stop Using Rapid Test Kits for 2 days"
At a time when almost 1,000 positive cases of COVID-19 are reported every day in the country, the faulty Chinese rapid testing kits (RT-PCR) have added another set of worries for the government agencies working tirelessly to contain the spread of Coronavirus.
After huge variations in the accuracy of results were noticed across regions, the Indian Council of Medical Research (ICMR) directed states to stop using the newly-distributed Chinese rapid testing kits (RT-PCR) for COVID-19 testing for the next two days.
Notably, the decision in this regard has been taken after West Bengal and Rajasthan complained about the inaccuracies in the rapid kit results.
Source: Millennium Post