Daily GK Update: 20th March 2020
SIDBI launches "Swavalamban Express" to promote business aspirants
On March 19, 2020, the Small Industries Development Bank of India (SIDBI) announced Swavalamban Express.
This includes Delhi, Jammu, Mumbai.
The other three include NABARD (National Bank for Agriculture and Rural Development), EXIM (Export Import Bank) and NHB (National Housing Bank).
Source: The World News Monitor
TRIFED Launches transformational "Tech For Tribals" program in partnership with Institutes of National Importance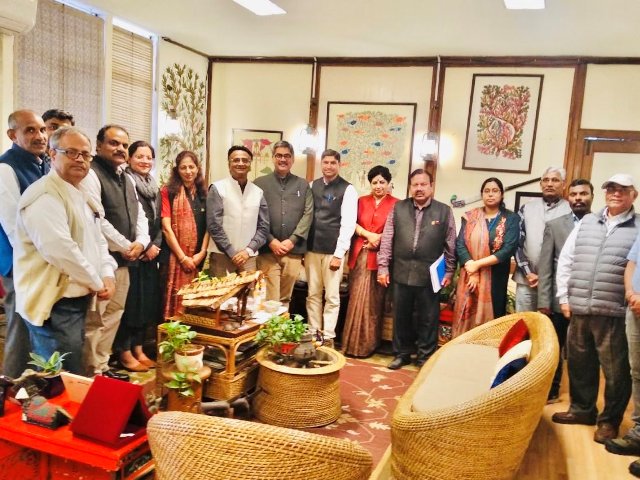 A game changing and unique project aimed to transform 5 crore Tribal Entrepreneurs under the name "Tech for Tribal" has been launched by TRIFED. It was launched on19thMarch 2020 by TRIFED and IIT-Kanpur along with IIT-Roorkee, IIM Indore, Kalinga Institute of Social Science, Bhubaneshwar and SRIJAN, Jaipurin the first phase of organising tribal entrepreneurship and skill development program.
Tech for Tribals, an initiative of TRIFED supported by Ministry of MSME, aims at capacity building and imparting entrepreneurship skills totribal forest produce gatherers enrolled under the Pradhan Mantri VanDhan Yojana(PMVDY). The trainees will undergo a 30 days program over six weeks comprising 120 sessions.
Source: Government of India
Draft DPP 2020 introduces 'leasing' as category to get defence equipment at affordable rates
The government issued the draft Defence Procurement Procedure (DPP) 2020 on Friday, wherein it introduced "leasing" as another category to get defence equipment at affordable rates.
Moreover, the indigenous content stipulated in various categories of procurement was enhanced to support the "Make in India" initiative, a statement issued by the government said.
Source: The Economic Times
A key cellular mechanism in Huntington Disease unravelled
Huntington disease (HD) is a progressive genetic disorder affecting the brain that causes uncontrolled movements, impaired coordination of balance and movement, a decline in cognitive abilities, difficulty in concentrating and memory lapses, mood swings and personality changes.
It is caused by a mutation in a gene called HTT. The HTT genes are involved in the production of a protein called huntingtin. They provide the instruction for making the protein. When the genes mutate, they provide faulty instructions leading to production of abnormal huntingtin proteins and these form into clumps. The clumps disrupt the normal functioning of the brain cells, which eventually leads to death of neurons in the brain, resulting in Huntington disease.
Source: Ministry of Science & Technology
15th Finance Commission constitutes committee to review fiscal consolidation roadmap
The 15th Finance Commission (FC) has constituted a committee to review the fiscal consolidation roadmap of the general government, an official notification released on Thursday said.
The committee, to be headed by chairman of the FC, NK Singh, will recommend a debt and fiscal consolidation roadmap for FY21-FY25 for the central government, overall states and general government and attempt building up scenarios for public sector enterprises.
Source: The Economic Times
Taxpayers can now file declarations under 'Vivad Se Vishwas' scheme
Taxpayers wanting to settle their income tax disputes under the 'vivad se vishwas' scheme will have to fill the online declaration form available on the IT department website by March 31, after the Central Board of Direct Taxes on Thursday enabled the online filing system and notified the rules.
The direct tax authorities have also notified principal commissioners and chief commissioners across various jurisdictions, including international taxation, as designated authorities to implement to implement the dispute resolution scheme.
Source: The Economic Times
El Nino may be 'neutral', raises hopes of normal rains this year
Amid the gloom, there is some good news on the weather front. The latest forecasts show that the dreaded El Niño weather phenomenon, known to disrupt the flow of the southwest monsoon, is expected to remain 'neutral' in May, June and July.
The latest India Meteorological Department (IMD) forecasts show that sea surface temperatures might further cool, enhancing the probability of La Niña after July. These weather phenomena indicate that the monsoon may be normal in India this year.
Source: Business Standard
15th FC to monitor coronavirus pandemic situation ahead of second report
The Fifteenth Finance Commission (15th FC) will monitor the situation in India in the wake of coronavirus pandemic and also the country's response to it, as part of its deliberations ahead of the recommendations for 2020-21 (FY21) to 2025-26 (FY26).
The Commission's Chairman N K Singh said on Thursday that some aspects that will need to be examined include health-sector specific needs, the larger impact on the economy of the Centre and states, and disaster relief funds.
Source: Business Standard
India extends Covid assistance worth $ 1 million under SAARC emergency fund
India, within days of PM Narendra Modi's announcement of creation of $10 million SAARC Emergency Fund to fight Covid-19, has supplied various medical supplies, testing equipment and sanitisers among other items to Maldivesrg, Sri Lanka, Afghanistan, Nepal, Bangladesh and Sri Lanka.
These supplies were made over last five days through release of one million dollar from 10 million dollar allotment by India, ET has learnt. The supplies were coordinated by respective Indian Embassies under the guidance of Foreign Secretary Harsh Shringla following consultations with local governments.
Source: The Economic Times