Daily GK Update: 1st May 2020
Biennial Election to the Maharashtra Legislative Councils by the members of Legislative Assembly (MLAs)
Election Commission today reviewed the matter concerning feasibility of conduct of biennial election for the 9 vacant seats of the MLC by MLAs in the state of Maharashtra. Shri Sunil Arora, Chief Election Commissioner joined the meeting with Shri Ashok Lavasa, Election Commissioner and Shri Sushil Chandra, Election Commissioner over video call (from USA).
9 seats of MLC by MLAs became vacant on 24 April 2020 in Maharashtra (Annexure A). ECI on 03 April 2020 issued an order under Article 324 to defer the elections till further orders in view of COVID-19 circumstances.
Election Commission has received a letter dated 30th April, 2020 of Chief Secretary, Maharashtra in which, the CS has pointed out the various measures taken to control pandemic and that in the State Government's assessment, elections to the 9 seats of MLC by MLAs could be held in a safe environment. State Government has assured the Commission that the State Government is fully committed to ensuring that the said elections are held in total hygienic conditions with social distancing measures and other conditions imposed by the competent authorities.
Source: Election Commission of India
USAID announces $3 million to support India's COVID-19 efforts
The US will provide an additional $3 million to India, through its aid agency USAID, for mitigating the spread of Covid-19.
In coordination with the Indian government, USAID is providing these funds to the Partnerships for Affordable Healthcare Access and Longevity (PAHAL) project, said officials.
Till now, USAID has provided $5.9 million to assist India in responding to the pandemic. This assistance will help India slow the spread of Covid-19, provide care for the affected, disseminate essential public health messages to communities and strengthen case finding and surveillance, said an official.
Source: The Economic Times
India's candidature for UNSC non-permanent seat for two-year term endorsed by Asia Pacific group
In a major diplomatic win and testament to its global stature, India's candidature for a non-permanent seat at the powerful UN Security Council for a two-year term has been unanimously endorsed by the 55-member Asia-Pacific grouping, including China and Pakistan.
Elections for the five non-permanent members of the 15-nation Council for the 2021-22 term will be held around June next year.
"A unanimous step. Asia-Pacific Group @UN unanimously endorses India's candidature for a non-permanent seat of the Security Council for 2 year term in 2021/22. Thanks to all 55 members for their support," India's Permanent Representative to the UN Ambassador Syed Akbaruddin tweeted Tuesday.
Source: The Economic Times
AYURAKSHA-Corona Se Jung- Delhi Police Ke Sang launched by All India Institute of Ayurveda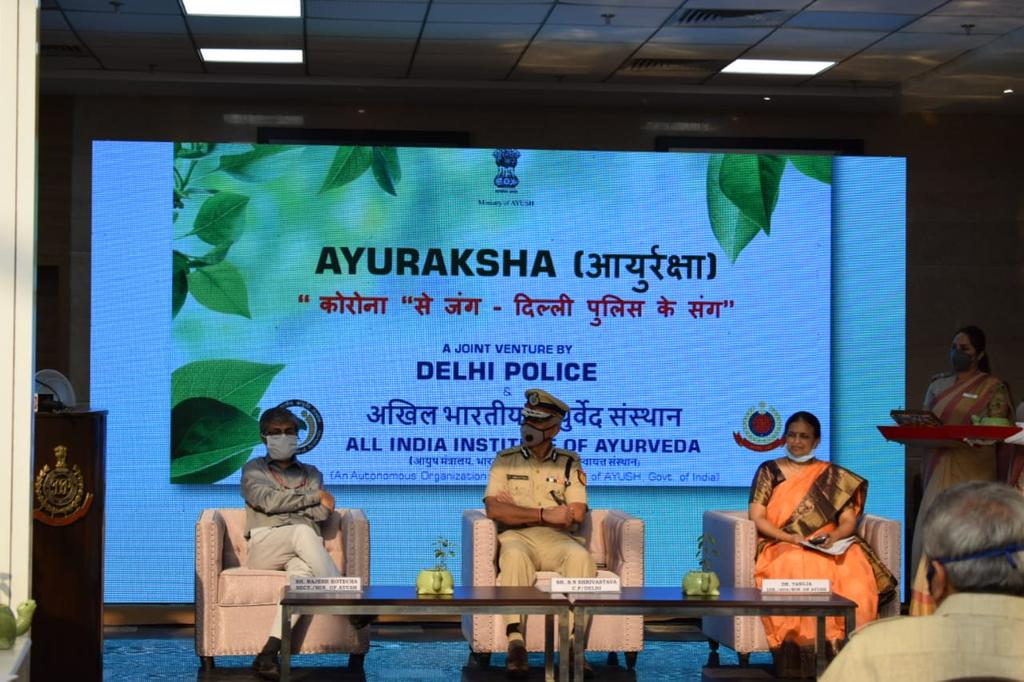 The All India Institute of Ayurveda (AIIA), under Ministry of AYUSH and Delhi Police organised AYURAKSHA programme for Delhi Police personal at New Delhi today. The joint programme titled AYURAKSHA "Corona Se Jung- Delhi Police Ke Sang" aims to fight against corona through simple and time tested Ayurveda immunity boosting measures.
These measures are as per the advisory issued by the Ministry of AYUSH. The recommended formulations like Chyawanaprasha (Amla as main content), Anu Taila and SanshamaniVati (prepared from Guduchi) have simple herbs which are time tested and scientifically proven for enhancing the immunity.
On this occasion, Secretary, Ministry of AYUSH Vaidya Rajesh Kotecha, highlighted the role of Giloy as Vayasthapana (Anti-aging herb). He mentioned that the Ministry is working for AYUSH medicines to be given as add-on therapy for COVID 19 positive cases. He also appreciated the efforts of Delhi Police as frontline warriors.
Source: Government of India (Ayush)
Covid-19: Pune-based institution develops microwave steriliser that kills virus within 30 secs
The Defence Ministry has proposed the use of Atulya – a microwave steriliser – that can disintegrate Covid-19 virus within 30 seconds.
The path-breaking piece of technology has been developed by the Defence Institute of Advanced Technology, Pune, a deemed university supported by the Defence Research and Development Organisation.
The Defence Ministry says the virus gets disintegrated by differential heating in the range of 56 degree to 60 degree celsius temperatures.
The product, which is not only a cost-effective solution and can be operated in portable or fixed installations, has also raised hopes of effectively killing the novel coronavirus in private space. According to a Defence Ministry note, the 'Atulya' system has been tested for human/operator safety and has been found to be safe.
Source: India Today
Germany Hardens Ban on Hezbollah
Germany on Thursday banned the Lebanese militant group Hezbollah from carrying out any activity on its soil and declared the group a terrorist organization, in a move, long sought by Israel and the United States, that deals a blow to its ability to operate in Europe.
Interior Minister Horst Seehofer ordered raids on four mosques and organizations suspected of being linked to Hezbollah, as well as some private addresses, as part of the measures.
"The activities of Hezbollah violate criminal law, and the organization opposes the concept of international understanding, whether in its political, social or military structures," the interior ministry said in a statement.
Source: The New York Times
Coronavirus: No Ceremonial Border Personnel meeting between Indian and Chinese armies on May 1
Ceremonial Border Personnel Meetings between Indian and Chinese armies that were to be held at the India-China border on Friday to mark the occasion of Labour Day or International Workers Day will not take place due to the coronavirus pandemic. The Indian side will instead be wishing their Chinese counterpart over the phone.
Labour Day is celebrated annually on May 1 to celebrate the working class and labourers across the world. On this day, ceremonial Border Personnel Meeting (BPMs) are held between the Indian Army and Chinese PLA at five established locations along the Line of Actual Control (LAC)- Daulat Beg Oldie and Chushul in Ladakh, Bum La and Kibithu in Arunachal Pradesh, and Nathu La in Sikkim. BPMs are ceremonial meetings that are held every year between the Indian Army and Chinese PLA on auspicious occasions for the two nations, which besides May 1 also include Independence Day, Republic Day and PLA Day (August 1). During the meetings, the two armies engage in iscussions, sports and group activities, which are meant to ensure peace at the LAC and harmony between each other.
Source: The Economic Times
US places India on priority watch list for intellectual property protection
The US on Wednesday placed India on the 'Priority Watch List' for lack of sufficient measurable improvements to its intellectual property framework on the "long-standing" and "new challenges" that have negatively affected American right holders over the past year.
The US placed 10 countries, including some of its major trading partners like India and China, on the list, alleging that enforcement of the intellectual properties have deteriorated or remained at inadequate levels and the Americans who rely on their protection have difficulty with fair and equitable market access.
Source: Business Standard
India at 53rd position in budget transparency, accountability: IBP survey
India has been placed at 53rd position among 117 nations in terms of budget transparency and accountability, according to Open Budget Survey released on Wednesday.
The survey, which was conducted by International Budget Partnership (IBP), has provided India's Union Budget process a transparency score of 49 out of 100, which is higher than the global average of 45.
New Zealand tops the chart with a score 87.
Some of the other large developing countries, with the exception of China, have got much higher transparency scores compared to India, news agency PTI reported.
South Africa (87), Mexico (82) and Brazil (81) are among the top six countries providing extensive information to public for scrutiny.
Source: Business Standard