Daily GK Update: 16th May 2020
May 16 : Why is the International Day of Light celebrated?
The United Nations marks the International Day of Light (IDL) — an annual initiative held globally to raise awareness on the critical role played by light-based technologies in everyday life — on May 16. The IDL highlights the contribution of such technologies in various avenues such as science, technology, art, and culture, thus helping achieve the UNESCO goals of education, equality, and peace.
The day selected, May 16, marks the anniversary of the first successful operation of the laser in 1960 by physicist and engineer Theodore Maiman. "The laser is a perfect example of how a scientific discovery can yield revolutionary benefits to society in communications, healthcare and many other fields," the lightday.org website reads.
Source: The Indian Express
Sikkim celebrates 45th Statehood Day; Tribute paid to state's first CM L.D Kazi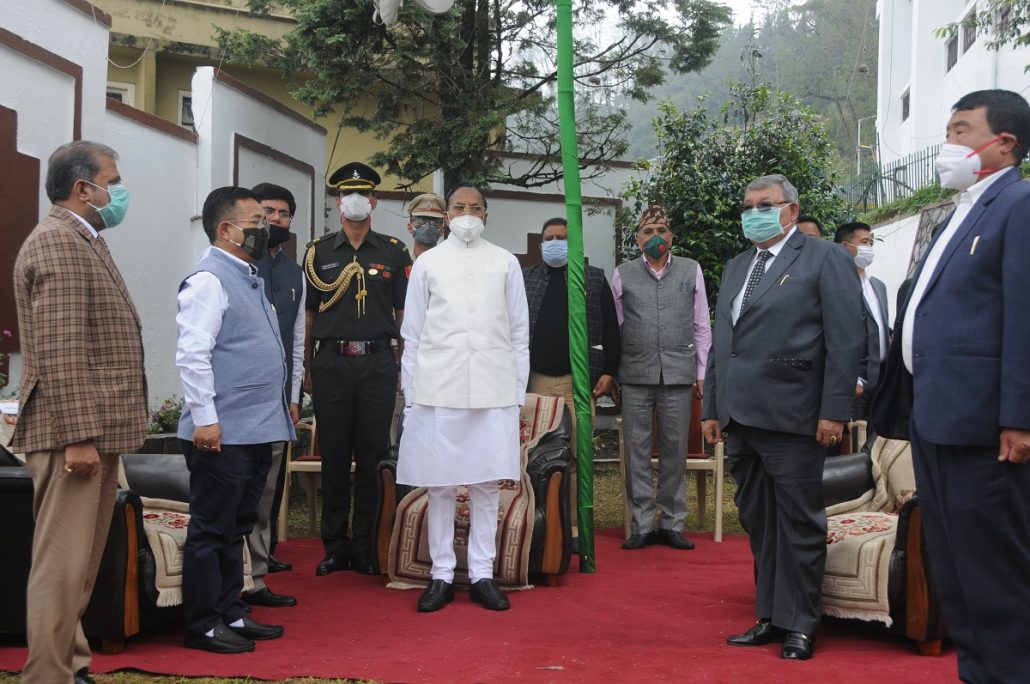 The 45th State Day of Sikkim was celebrated today in a brief function held at Chintan Bhawan premises here in the capital.
The funtion was graced by Governor of Sikkim Ganga Prasad as the Chief Guest and Chief Minister Prem Singh Tamang as the Guest of Honour.
The function had the presence of Deputy Speaker SLA, Ministers, MLAs, MP Lok Sabha, Mayor GMC, Chief Secretary, DGP, Heads of Departments, and senior officers of the State Government.
On their arrival, the Chief Guest and Guest of Honour offered garlands and paid rich tribute to the statue of Late Kazi Lhendup Dorji Khangsarpa, the first Chief Minister of Sikkim and the father of democracy in Sikkim.
All the dignitaries present offered khadas on the statue of Late L.D. Kazi.
Source: The North East Today
Atmanirbhar package: Mining industry welcomes reforms announced under fourth tranche
The mining industry has welcomed reforms announced under the fourth tranche of the Aatmanirbhar Bharat package.
The Federation of Indian Mineral Industries (FIMI) has long been requesting the Government to allow seamlessness in the mining sector starting from reconnaissance to mining stages, in line with international best practices.
"We are glad that the Government has finally decided to grant Composite Exploration-cum-Mining-cum-Production Licence (CEMPL) to allow seamlessness in the sector. However, the finer details of the newly announced regime are to be seen. We look forward to working closely with the Government to ensure proper planning and implementation of the regime for growth of the mining sector in India," FIMI said in a statement after Finance Minister Nirmala Sitharaman's address to announce the fourth tranche of the Aatmanirbhar Bharat package to tackle COVID-19 induced economic slowdown.
Source: Business Line
e-NAM reaches milestone of 1000 Mandis across 18 States, 3 UTs
The pan-India electronic agriculture trading portal, e-NAM has reached milestone of one thousand Mandis across 18 States and three Union Territories. Agriculture Ministry said, 38 additional Mandis were integrated with the e-NAM platform yesterday. The 38 new Mandis include 19 from Madhya Pradesh, 10 Mandis from Telangana, four from Maharashtra and one each in Gujarat, Haryana, Punjab, Kerala and Jammu and Kashmir.
AIR correspondent reports, e-NAM has become a tool for social distancing during lockdown. States are promoting virtual trading platform like e-NAM thereby reducing human intervention in handling of the produce and trading ensured through online mode. E-NAM was launched in 2016, with the aim of networking the existing Mandis on a common online market platform as One Nation, One Market for agricultural commodities in the country.
Source: All India Radio
Chhattisgarh to launch Rajiv Gandhi Kisaan Nyay Yojana from May 21
Chhattisgarh government will launch its ambitious Rajiv Gandhi Kisan Nyay Yojana on May 21 (death anniversary of former Prime Minister Rajiv Gandhi). The scheme is aimed at stimulating the rural economy in the state, amid the slowdown caused by by the Covid-19 pandemic.
Under the scheme, the state government will inject Rs 5100 crore into the state's rural economy by directly transferring the grant amount through Direct Benefit Transfer into the accounts of farmers. The state had made the provision for the scheme in the Budget 2020-21.
The farmers would be paid Rs 10,000 per acre for paddy, corn and sugarcane crops, based on the registered and procured area for the kharif season. The scheme will benefit over 1.87 million farmers. The state government also plans to provide a fixed amount per acre based on the registered and notified areas for pulses and oilseed crops.
Source: Business Standard
World Bank approves $1 billion to support India's fight against Covid-19
The World Bank on Friday approved USD 1 billion 'Accelerating India's COVID-19 Social Protection Response Program' to support the country's efforts for providing social assistance to the poor and vulnerable households, severely impacted by the pandemic.
This takes the total commitment from the World Bank towards emergency COVID-19 response in India to USD 2 billion.
A USD 1 billion support was announced last month to support India's health sector.
The response to the COVID-19 pandemic around the world has required governments around the world to introduce social distancing and lockdowns in unprecedented ways, said Junaid Ahmad, World Bank Country Director in India in a webinar interaction with the media
Source: The Economic Times
Coronavirus | President Ram Nath Kovind takes 30% salary cut, announces austerity measures to aid COVID-19 fight
President Ram Nath Kovind has decided to forego 30% of his salary for the whole year apart from directing officials to adopt other austerity measures in the wake of the coronavirus (COVID-19) pandemic, a communique from Rashtrapati Bhavan said on Thursday.
The domestic tours of the President will be substantially reduced, guest lists as well as food menu at official ceremonies will be cut and plans to purchase a new Presidential Limousine (estimated to cost ₹10 crore) have been deferred.
Source: The Hindu
Centre, WB govt, AIIB sign agreement for USD 145 million project to improve irrigation in West Bengal
Government of India, West Bengal Government and the Asian Infrastructure Investment Bank, AIIB today signed a loan agreement for a 145 million dollar project to improve irrigation services and flood management in the Damodar Valley Command Area in West Bengal.
Finance Ministry said, the West Bengal Major Irrigation and Flood Management Project will benefit about 27 lakh farmers from five districts of the state with better irrigation services and improved protection against annual flooding.
The agreement was signed by Sameer Kumar Khare, Additional Secretary, Department of Economic Affairs and Rajat Misra, Director General on behalf of the AIIB.
Mr Khare said, India is adopting a strategic growth path that uses and manages its water resources more efficiently. He said, this project will assist in improving irrigation and agriculture in the Damodar Valley Command Area, by optimizing the use of surface and groundwater. It will also strengthen flood management, which will help boost agricultural productivity and increase incomes in rural areas. The total value of the project is over 413 million dollars.
Source: All India Radio
Tribal Affairs Minister launches 'GOAL' programme to provide online mentorship to tribal youth
Tribal Affairs Minister Arjun Munda has launched the "GOAL – Going Online As Leaders – programme of his Ministry in partnership with Facebook at a Webinar in New Delhi today. The GOAL programme is designed to provide mentorship to tribal youth through digital mode. The digitally enabled programme envisages to act as a catalyst to explore hidden talents of the tribal youth, which will help in their personal development as well as contribute to all-round upliftment of their society.
Announcing the programme, Mr Munda said that the Digital literacy has gained importance in view of challenges posed by Covid pandemic. He said that his Ministry's partnership with Facebook through GOAL programme has come at the right time to provide a platform to tribal youth and women to move ahead in life. The programme intends to upskill and empower 5,000 tribal youths in the current phase to harness the full potential of digital platforms and tools to learn new ways of doing business, explore and connect with domestic and international markets.
Source: All India Radio
In a first, Coast Guard digitally commissions three new vessels
The Indian Coast Guard's maritime surveillance capability received a boost on Friday with three new vessels being commissioned at Goa Shipyard Limited (GSL), taking the force's fleet size to 150.
In a first for India's maritime history, defence minister Rajnath Singh commissioned an offshore patrol vessel and two interceptor boats via video link.
"I am confident that the ships being commissioned today will enhance the Indian Coast Guard's ability to tackle maritime threats, terrorism, drug trafficking, smuggling, maritime law enforcement and humanitarian assistance to seafarers," Singh said.
He also said that the Coast Guard needs to be suitably equipped to handle these threats.
Source: Times of India
Rajnath Singh approves Rs 400-crore defence testing infrastructure scheme
To provide private sector defence and aerospace companies affordable facilities to test and validate weaponry they are designing, Defence Minister Rajnath Singh approved on Friday a Defence Testing Infrastructure Scheme (DTIS) with an outlay of Rs 400 crore.
Over decades, the Defence Research & Development Organisation (DRDO), the 41 Ordnance Factories (OFs) and eight Defence Public Sector Undertakings (DPSUs) have created sophisticated and costly testing facilities for firearms, ammunition, electronics and radar at government expense. The private sector will have access to such facilities too.
Source: Business Standard
JNCASR develops injectable silk fibroin-based hydrogel for insulin delivery
The iSFH has demonstrated successful delivery of active insulin in rats, and the JNCASR team hopes that pharma companies will come forward and further develop it for human use
Scientists at Jawaharlal Nehru Centre for Advanced Scientific Research (JNCASR), an autonomous research institute under the Department of Science and Technology, have recently developed an injectable silk fibroin-based hydrogel for sustained insulin delivery in diabetic patients. A patent application has also been filed for this invention.
Prof T Govindaraju and his research team from JNCASR have developed the silk fibroin (SF) formulation using biocompatible additives and prepared an injectable SF hydrogel (iSFH) that can ease insulin delivery in diabetic patients. The iSFH has demonstrated successful delivery of active insulin in rats, and the results have been published in the journal ACS Applied Bio Materials.
Source: Express Pharma
DST INSPIRE Faculty from Bhopal develops lightweight carbon foam that can replace lead batteries
Dr. Rajeev Kumar from CSIR-Advanced Materials and Processes Research Institute, Bhopal, a recipient of the INSPIRE Faculty award instituted by the Department of Science &Technology, Govt. of India, is developing porous carbon materials which have the potential to replace lead grid in lead-acid batteries.
It can also be useful for heat sinks in power electronics, electromagnetic interference shielding in aerospace, hydrogen storage and electrode for lead-acid batteries and water purification systems.
The present grid-scale energy-storage sector is dominated by lithium-ion batteries, because of their higher energy density & specific power and long cycle life.
However, there are some serious concerns regarding Li-ion batteries, such as safety risk, limited resource supply, high cost, and lack of recycling infrastructure.
This necessitates the development of an alternative battery system with lower environmental concerns, economic and higher energy density.
Source: DD News