Daily GK Update: 10th May 2020
Cooperative banks come under SARFAESI Act: SC
The Supreme Court on Tuesday held that cooperative banks established under a State law or multi-State level societies come within the ambit of the Securitisation and Reconstruction of Financial Assets and Enforcement of Security Interest (SARFAESI) Act of 2002.
The Act prescribes a procedure for faster recovery of dues.
"Parliament has legislative competence to provide additional procedures for recovery under Section 13 of the Act with respect to cooperative banks," the 159-page judgment by a Constitution Bench led by Justice Arun Mishra observed.
The reference to the question of law on the applicability of the 2002 Act in the co-operative banking sector was made to the Constitution Bench in 2016.
Source: The Hindu
India launches Mission Sagar to assist island nations in Eastern Indian Ocean
India launched Mission Sagar on Sunday as part of the government's outreach initiative towards five Island nations in the Indian Ocean amidst the ongoing COVID-19 pandemic.
The Ministry of Defence (MoD) in a statement said, "Indian Naval Ship Kesari has departed for Maldives, Mauritius, Seychelles, Madagascar and Comoros, to provide Food Items, COVID related Medicines including HCQ Tablets and Special Ayurvedic Medicines with Medical Assistance Teams embarked."
Also, as part of Mission Sagar, Indian Naval Ship Kesari would enter the Port of Male in the Republic of Maldives, to provide them 600 tons of food provisions. India and Maldives are close maritime neighbours with strong and extremely cordial defence and diplomatic relations.
Source: The New Indian Express
Rajnath Singh approves abolition of 9,304 posts in Military Engineering Service
Defence Minister Rajnath Singh has approved a proposal for the abolition of 9,304 posts in the Military Engineering Service (MES), the Defence Ministry said on Thursday.
This is in line with the recommendations of the Lt. Gen. D.B. Shekatkar (Retd.) Committee, which had suggested measures to enhance combat capability and rebalance armed forces' expenditure.
"In line with the recommendations made by the Committee, based on the proposal of Engineer-in-Chief, MES, the proposal of abolition of 9,304 posts in MES out of the total 13,157 vacancies of the basic and industrial staff has been approved by the Defence Minister," the Ministry said in a statement.
Source: The Hindu
WHO, UN postal agency release commemorative postage stamp on 40th anniversary of eradication of smallpox
WHOWorld Health Organization (WHO) and the UN's postal agency have released a commemorative postage stamp today on the 40th anniversary of the eradication of smallpox. The head of the global health body expressed gratitude to a top Indian-origin UN official. In May 1980, the 33rd World Health Assembly issued its official declaration that the world and all peoples have won freedom from smallpox.
It ended after a 10-year WHO-spearheaded global effort that involved thousands of health workers around the world to administer half a billion vaccinations to stamp out smallpox. WHO Director-General Tedros Adhanom Ghebreyesus said, when WHO's smallpox eradication campaign was launched in 1967, one of the ways countries raised awareness about smallpox was through postage stamps.
Source: All India Radio
Railways starting train services gradually from May 12: Important facts you need to know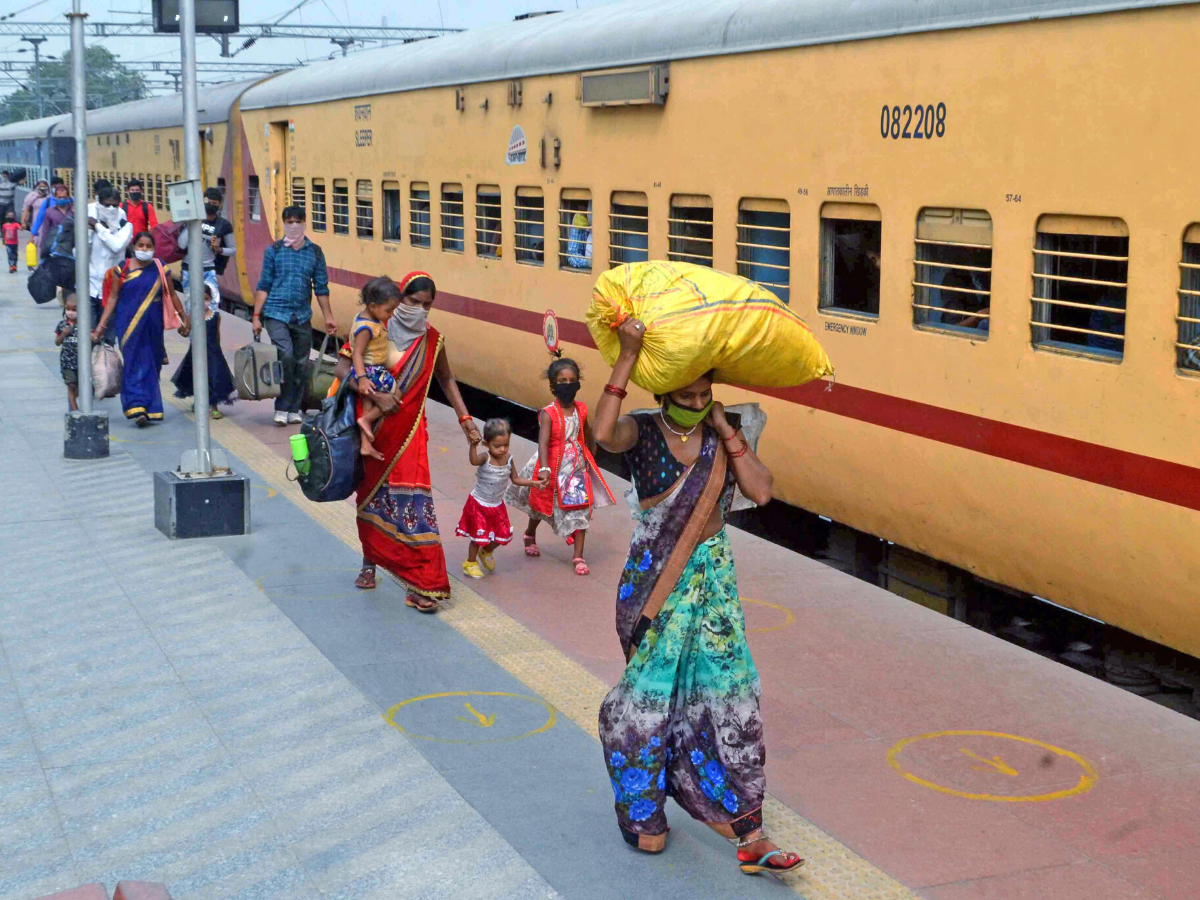 Indian Railways on Saturday announced that it would resume the train services gradually, starting May 12, after 51 days of suspension since March 22 due to the coronavirus outbreak in the country and the subsequent lockdown imposed to restrict people's movement and intermingling. Further details including train schedule will be issued separately in due course. Here are some of the most important facts you need to know about the resumption of train services.
Railways resume operations from 12th May 2020, initially with 15 pairs of trains that will translate into 30 return journeys.
The 15 train services will connect New Delhi with Dibrugarh, Agartala, Howrah, Patna, Bilaspur, Ranchi, Bhubaneswar, Secunderabad, Bengaluru, Chennai, Thiruvananthapuram, Madgaon, Mumbai Central, Ahmedabad and Jammu Tawi railway stations.
Booking and reservations for these trains will begin at 4 pm on Monday, May 11 only through IRCTC website. There will be no booking done at railway stations or IRCTC counters. Booking of tickets through agents shall not be allowed. Even platform tickets will not be issued.
No provision of Tatkal and premium Tatkal accommodation.
Only passengers carrying valid confirmed tickets will be allowed to enter the railway stations. All the passengers will have to wear face masks or a face cover.
Passengers will also be screened at the station of their departure. Only asymptomatic passengers will be allowed to board the trains.
Gradually more special services will begin on new routes based on the availability of coaches keeping in mind the 20,000 coaches that have been set aside for Covid-19 care centres and those that are being used to run up to 300 Shramik Special trains every day for stranded migrants.
All coaches in these 15 special trains will be Air-conditioned
Fares charged on these special trains will be equivalent to Rajdhani fares
All precautions and social distancing norms will be followed at stations.
Source: Hindustan Times